Your sexual health is
your business

.
At HealthyMD, we believe in providing anyone who's sexually active with all of the information they need to make important decisions about their sexual health. Whether you don't have a primary care doctor, want to keep your sexual health private, or don't have access to a regular clinic, HealthyMD ensures you receive the care you need, when you need it. 
 
From private, FREE telehealth visits and FREE comprehensive at-home testing kits with results delivered securely online, to easily accessible treatment, HealthyMD is a one-stop-shop for all of your sexual health needs.  
 
Schedule an appointment with one of our licensed medical professionals and take the first step on your journey to a healthier sex life.
HealthyMD has partnered with Pride Life, LLC to help currently uninsured individuals. Pride Life is an insurance broker specializing in identifying the plan with the best coverage for you and your medication needs.

Once you have signed up with Pride Life, we will contact you to complete your request for your free at-home test kit.
Click here to learn more
We currently do not accept your insurance. We apologize for any inconvenience.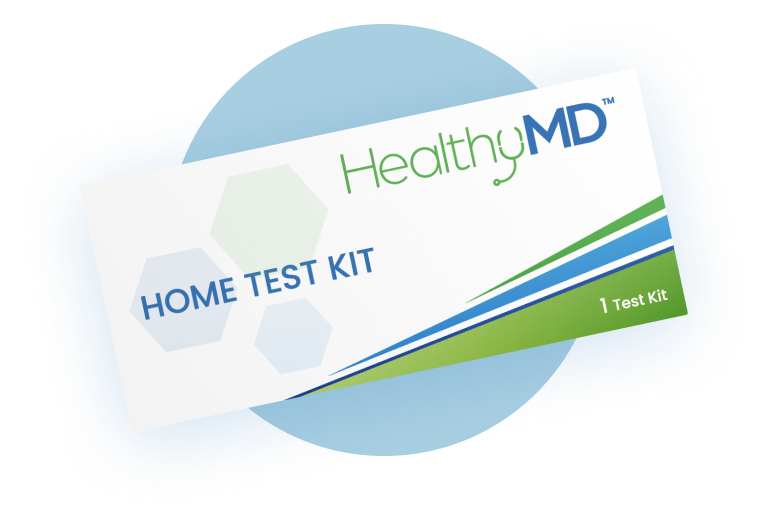 We have the right kit for you 
Tests for: Chlamydia, Gonorrhea, Creatinine, HIV, Syphilis, Hepatitis B, hCG (pregnancy test)
Tests for: Chlamydia, Gonorrhea, Creatinine, HIV, Syphilis, Hepatitis B, Hepatitis C, hCG (pregnancy test)
Receive your FREE home test kit and schedule
a FREE telehealth appointment today.
Collection methods used: Urine sample, throat swab, rectal swab, and finger prick spot blood card. Both test kits are designed for both male and female patients.
If you have been exposed to HIV within the past 72 hours please go to your nearest emergency room or urgent care.
All Home Test Kits Are Free!
HealthyMD will cover 100% of the test kit costs
Take charge of your sexual health
Know your status and make decisions about your health confidently and confidentially
At HealthyMD, we know that getting tested or discussing your sexual health can be scary, even embarrassing. But you are not alone! More than 20 million people in the United States are diagnosed with a sexually transmitted infection each year. HealthyMD offers everyone the chance to arm themselves with the knowledge to make informed decisions about their health. 
Our telehealth visits are
private
, your results are
confidential
, and our home test kits arrive at your door
discreetly
. Make a FREE telehealth appointment with one of our dedicated licensed medical professionals today and be one step closer to healthier, better sex.